Campus Shows Its Green Side for Earth Week
They planted trees. They learned how to compost. They found out about the many fair trade offerings at UC San Diego. Many members of the campus community turned out for Earth Week celebrations all over campus last week. Organizers are encouraging students, faculty and staff members to own their impact on the environment, said Kristin Hansen, a sustainability analyst and one of the week's key organizers. More
Watch a Slideshow of Earth Week

UC San Diego Raises Threshold
for Transfer Admission Guarantee Program
Record applications from thousands of well-qualified students and deep budget cuts have forced UC San Diego to make tough admissions decisions. UC San Diego's transfer admissions data is not available until May, but based upon preliminary numbers, UCSD received nearly 9,000 Transfer Admissions Guarantee (TAG) requests from students across the state of California for Fall 2011. This number is up significantly from the 3,427 received for Fall 2010. More
A Life-Changing Year
Rae Armantrout looks back on life since winning coveted Pulitzer Prize

The Pulitzer Foundation never called. Instead, it was a PR woman from the university communications office who called Rae Armantrout to congratulate her on "the award" and warn her that the media would want to talk to her soon. Armantrout couldn't imagine why. Why would the press care about her month-old win of the National Book Critics Circle Award? It took a moment or two for Armantrout to sort out that what was at issue was the 2010 Pulitzer Prize for Poetry for her tenth book of poems, "Versed." More
La Jolla Research and Innovation
Summit Connects Business and Academia

Core assets. Emergent technologies. Unprecedented opportunities. Such phrases turned up again and again Thursday at the third annual La Jolla Research and Innovation Summit, as top research scientists from UC San Diego and other local institutions met with venture capitalists to discuss the future of cleantech, biotech, wireless and information technologies. More
Supercomputer Center to Venture
Capitalists: Data-Intensive Supercomputing is Here

The exponentially increasing amount of digital information, along with new challenges in storing valuable data and massive datasets, are changing the architecture of today's newest supercomputers as well as how researchers will use them to accelerate scientific discovery, said Michael Norman, director of the San Diego Supercomputer Center at the La Jolla Research & Innovation Summit this week. More
Jacobs School of Engineering
Comes Alive for Research Expo 2011

From robots to UAVs, railway safety, social networks and grocery shopping technology for the blind, engineering graduate students at UC San Diego presented their latest research to industry, potential investors and fellow students and faculty at Research Expo April 14. More
Twelve Preuss School Seniors Named
Finalists for Gates Millennium
Scholarships, Largest Number in School History

Twelve seniors at The Preuss School UCSD—a charter middle and high school for motivated, low-income students—have been named as finalists in the prestigious Gates Millennium Scholars Program. The national competition awards "good through graduation" scholarships annually to 1,000 talented students for use at any college or university of their choice. This is the largest number of finalists ever at The Preuss School. More
Southwest Airlines Sponsors UC San Diego
2011 Overnight Events for Admitted Students

The University of California, San Diego continues to enhance recruitment and yield programs to help ensure a more diverse student body and healthier campus climate. Overnight programs offered in early April were part of the university's comprehensive efforts to encourage students to accept their admittance to UC San Diego. Admitted students invited to participate in the Overnight Programs tend to come from historically underrepresented backgrounds in higher education, are the first in their families to attend college and/or are from low socio-economic backgrounds. More
A Cancer Marker and Treatment in One?

Researchers at the School of Medicine say antibodies to a non-human sugar molecule commonly found in people may be useful as a future biomarker for predicting cancer risk, for diagnosing cancer cases early and, in sufficient concentration, used as a treatment for suppressing tumor growth. More
UC San Diego and Just in Time Help
College-Bound Foster Youth Overcome Obstacles
UC San Diego students, faculty and staff have teamed up with Just In Time for Foster Youth for the "2011 College-Bound Drive." The drive runs through April 29, to collect essential supplies for college-bound youth like James Lee. Lee, a foster child, came to the campus last year without family support or basic resources. But fortunately he received the help he needed to start his college career both with supplies and gaining a sense of belonging. More
Class Act: Graduating Seniors Aim to
Raise $30,000 for Scholarships at UC San Diego

With graduation just over a month away, seniors at UC San Diego are preparing to leave the university with a legacy. The Class of 2011 has set a goal to raise a record $30,000 for scholarships as the 2011 Senior Class Gift. From now until the end of June, seniors will be challenging their classmates to make a gift of $20.11 in a collective effort to help ensure that future students can experience the same opportunities that they have enjoyed at UC San Diego. More
Ramachandran Named Among
Top 100 by Time Magazine

President Barack Obama, Secretary of State Hillary Clinton, Facebook founder Mark Zuckerberg and UC San Diego researcher V.S. Ramachandran. What do they have in common? They all are on TIME Magazine's 2011 TIME 100 list. The list identifies the most 100 influential people in the world according to the magazine. More
UC Riverside Chancellor
Goes on 'Undercover Boss' in May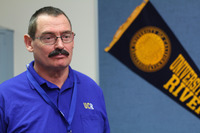 The mission was impossible. Take the head of a public research university and hide him in plain sight for a week. But UC Riverside accomplished it at the request of the hit CBS reality show "Undercover Boss." Chancellor Timothy P. White, who has served as UC Riverside's highly-visible chief executive for the past three years, crops his hair short and dons a mustache, false teeth, and earring in a show that lets him take on the everyday work of the students, staff and faculty at the 20,000-student campus. In the process, he said, he was changed as a chancellor. More
Dear Humans: We Want Your Brains
CBS News, April 22



Highway Robbery: Car Computer
Controls Could Be Vulnerable to Hackers
Scientific American, April 20


Why Are We Still Asleep at the Wheel?
USA Today, Opinion, April 21


Let Tepco Go Bankrupt, If It Must
The Wall Street Journal, Opinion, April 19


Time Names UCSD Scientist
Among World's Most Influential People
San Diego Union-Tribune, April 22



More Press Clips
April 25, 2011


Sixth College
Provost Steps Down
Applications Being Accepted for Darcy and Robert Bingham Scholarship
Read the latest issue
of Our University

The University of California is ramping up its advocacy efforts. See videos from faculty, students, staff and alumni about why UC is important to them.
Read about how once again UC has honored its commitment to the Master Plan and offered admission to every eligible California-resident applicant.
Take a health assessment
and you could be eligible for a $100 gift card.

More
Upcoming
Staff Education and Development Courses

HireOnline
Hands-On Training
5/04/11
1:30 to 3:30 p.m.
Keyword search: HireOnline

Resilient Leadership
During Changing Times
4/28/11
8:30 a.m. to 12:20 p.m.
Keyword search: leadchange

Managing
Workplace Conflicts
5/10/11
8 a.m.to 12:30 p.m.
Keyword search: workplaceconflicts



12th Annual Hate Free Campus Campaign
April 22 — 29, 2011


More Events
18,234 = number of freshmen admitted at UC San Diego for fall 2011

3,512 = number of underrepresented students admitted

15.4 = percentage increase in the number of underrepresented students from fall 2010 to fall 2011


Chechnya Jihad

By Mark Andre Meyers
The accidental discovery in New Mexico of a super explosive, a thousand times more powerful than conventional ones, sends assistant professor Jean-Claude Delvaux into a whirlwind of travel, passion, and discovery. Transcending the strictures of the canned thriller genre, Mark Andre Meyers has crafted a novel that explores the depths of the human mind through conflict.
More